Versatile & inexpensive: accessories for EDM machines
Regardless of whether it is a used wire EDM machine from AGIE or a sinker EDM machine from Charmilles - at TECHMA you can get affordable EDM machines from well-known brands, carefully overhauled by experienced experts and comprehensively checked according to the highest standards.
Our EDM machines are powerful and can withstand any stress in the long term. Provided that you take good care of it. Because we do not want to do short-term business with our customers, but rather maintain long-term business partnerships, at TECHMA you will not only find a used EDM machine that optimally suits your requirements, but also the corresponding accessories. From cooling units in various performance classes to clamping systems for wire erosion to the right programming software.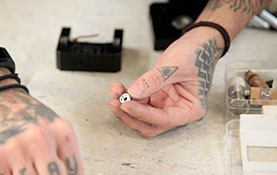 Your advantages at TECHMA
✔ Tested quality according to the manufacturer's specifications
✔ Attractive price-performance ratio
✔ Fast availability
✔ Complete service packages
And if you ever need help repairing your EDM machine, our team will be happy to support you. If you commission TECHMA, you will benefit from the comprehensive all-round service of an experienced expert.
Cooling units
TECHMA sells new and used cooling units in various performance classes to match your EDM machine.
Discover more
Clamping systems
When it comes to the sale of integrated clamping systems in modular design, we are happy to be at your side as your partner.
Discover more
CAM-Software
Our product range includes software for wire erosion as well as PEPS CAD / CAM systems for wire erosion machines.
Discover more