TECHMA CNC-Maschinen Technik GmbH
Our established, second-generation company operates on the one hand as a dealer of used EDM machines from GF Machining Solutions. On the other hand, TECHMA GmbH sees itself as a provider of individual complete solutions.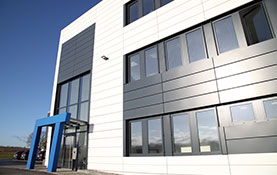 Specializing in the refurbishment and international sales of the AGIE and Charmilles brands, we provide our customers with comprehensive support: from flexible requirements planning to choosing the right EDM machine and financing to its professional commissioning, maintenance or optimization.
We are happy to deliver our refurbished EDM machines including programming software and basic tool equipment. A detailed briefing and various training courses round off our portfolio. The TECHMA carefree package gives even those new to eroding an optimal introduction to this innovative processing technology.
TECHMA │ A success story - right from the start
Our company history proves that our solution-oriented concept works. In 1996, we traded with just 20 EDM machines, now in the second generation TECHMA sells several hundred per year - including products from GF Machining Solutions that are on the market.

1995
Rolf Krieg founded TECHMA CNC-Maschinen Technik GmbH as managing partner with two other employees. The business purpose consisted in the sale and commissioning of CNC machining centers.

1996
TECHMA signed a cooperation agreement with AGIE in Schorndorf. The cooperation in the field of used EDM machines, which is still promising today, began.

2011 until today
Relocation to the new factory hall: Numerous AGIE wire and die-sinking EDM machines of various sizes and designs are available for inspection on an area of more than 3000 square meters.